Demag DH. The hoist unit.
For demanding requirements
  Demag DH hoist units can be used in a wide variety of applications, both as travelling hoists on cranes or monorails and as stationary solutions. These powerful hoist units offer a number of special technical features that enable loads to be handled reliably even under demanding requirements.  More than lifting: Installed as stationary or travelling units, they are more than just hoists – thanks to gentle handling with high load capacities up to 100 tons and flexible integration into almost any design.
Built tough
DH hoists are robust to ensure reliable operation even in the toughest environments. Demag hoist units are designed for demanding applications such as foundries or electroplating plants with high ambient temperatures, high dust levels and aggressive environments. They can also withstand the adverse conditions typically encountered by rope hoists.
Versatile
Their modular concept and flexible mounting arrangements enable DH hoist units to be integrated into almost any structure with ease. Their many variants and options facilitate an almost unlimited range of applications. For example, you can find these hoists in lifting stations, winch arrangements and architectural applications – sometimes it takes a closer look to even discover them.
DH: Your benefits
Rugged design – proven worldwide
Easy integration into any design
High switching frequencies and high duty cycles
Precise positioning with mechanical microspeed or frequency-controlled lifting
Load capacity up to 100 t
Hook path up to 104 m
Universal. Safe. Rugged.
Demag DH hoist units are based on perfectly matched and robustly designed components. This means that they offer optimum conditions for individual solutions, even for unusual applications. Demag DH hoist units are in operation all over the world and offer outstanding safety and reliability.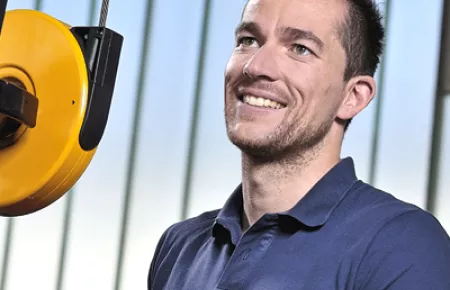 125 Ye Zhuang Road, European Industrial Zone Zhuanghang Town, Fengxian District
Shanghai 201415
P.R. China