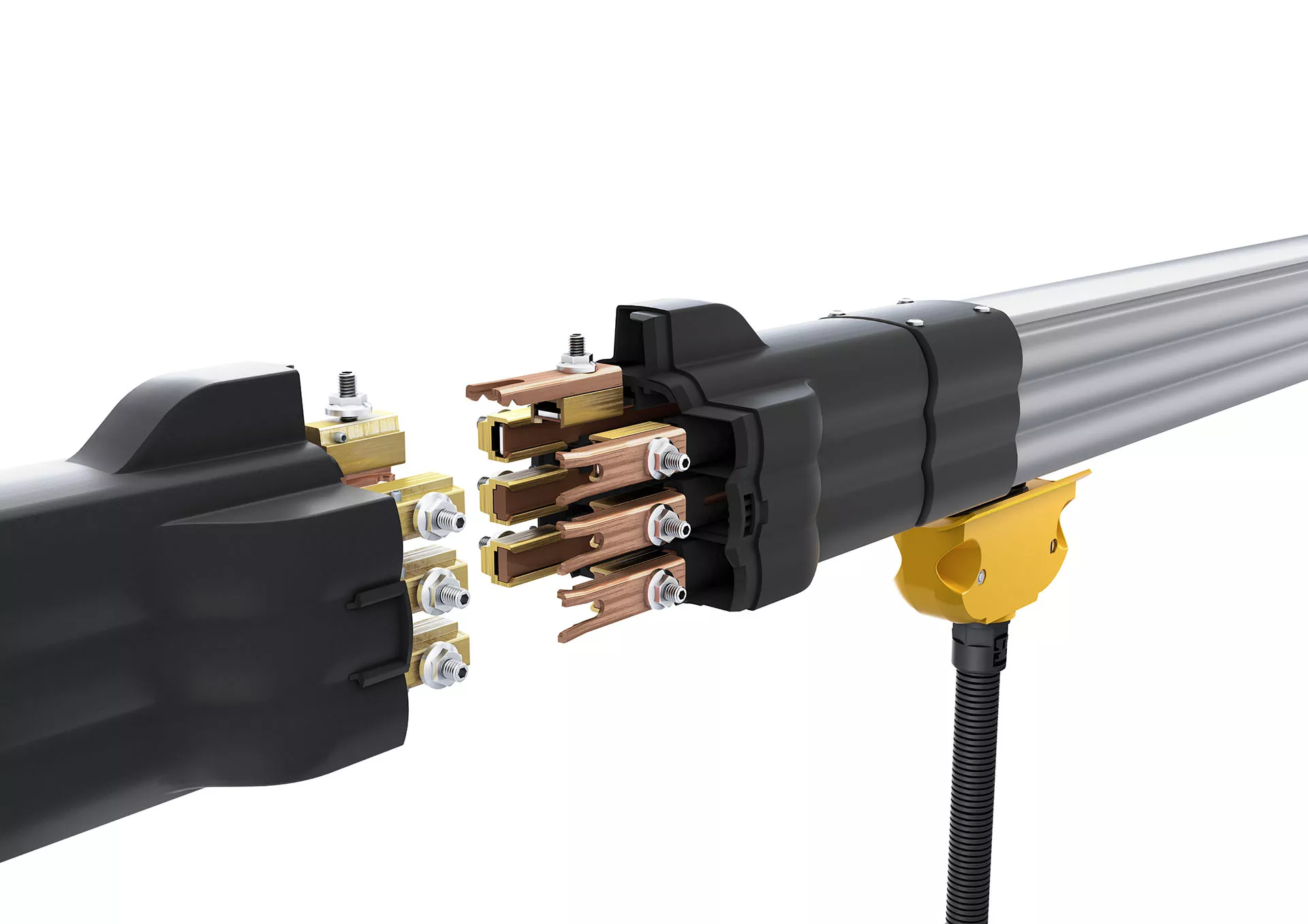 Patented connection system
DCL-Pro compact conductor line
Safe and reliable power supply
Our DCL-Pro compact conductor line sets new standards for power supply arrangements for mobile equipment. It features innovative technology all along the line. The highly rugged enclosure profile has a low deadweight and its flexible configuration provides for a wide performance range.
The current collector system has been developed with absolute reliability in mind to ensure safe and reliable operation over a long service life. The patented connection arrangement with prepared modules makes installation much easier – and cuts the time required for assembly.
High profile section rigidity with a low deadweight
Long service life thanks to optimised current collector trolley design
Up to 200 A in continuous operation
Fast installation thanks to pre-assembled connection system
Compatible with DCL predecessor model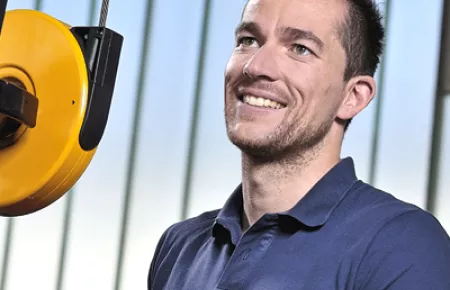 125 Ye Zhuang Road, European Industrial Zone Zhuanghang Town, Fengxian District
Shanghai 201415
P.R. China
Video Showcase
Depending on requirements, our power supply lines and conductors can be supplied in various designs with different numbers of poles.
Product information
Reliable performance
Up to seven conductors to supply power and control signals
Up to 200 A in continuous operation
High profile section rigidity with a low deadweight
Long service life thanks to optimised current collector trolley design
Power infeed both at the ends or in the middle of the conductor line
High safety and reliability
Protected power cables integrated in the current collector trolley
Narrow profile slot largely eliminates accidental contact with the interior conductor rails
Sealing lip for effective protection against dust and moisture with IP 24 enclosure (optional)
Expansion compensation at each joint
Fire protection to UL94/VO
Convenient assembly and maintenance
Fast installation thanks to pre-assembled connection system
Fast and simple replacement of straight sections
System can be inspected at each joint
Precise attachment to C-section rails or by means of threaded pins
Existing installations can be easily extended, since the system is compatible with its DCL forerunner
Track routing to meet specific needs
Whether for straight or curved tracks or circuits, DCL-Pro offers the flexibility required to create track layouts that match the exact requirements of your installations. Straight profile sections as well as various curved sections with differing radii are available to meet these needs:
Straight track sections:  Standard lengths of 4,000 mm, can be modified during assembly, if required
Curved sections: for implementing L-shaped, U-shaped and S-shaped track layouts as well as for circuits:  available for angles ranging from 15° to 360°
Minimum radius of 800 mm
Universal power infeed
DCL-Pro is designed for ease of assembly and can be simply modified to meet local site requirements. The powerfeed can be installed anywhere along the line or at the ends of the track. The cables are also quickly connected.
Powerfeed end cap:  Powerfeed at the end of the track direct via the connector cap
Centre powerfeed section: can be installed at any point along a straight track
Small curve and centre powerfeed. Special power supply arrangement for curved tracks; alternative centre powerfeed for small sizes (10 and 15 mm²)
Entry and ramp section:  Reliable power supply arrangement for mechanically and electrically isolated track segments
Simple and reliable attachment
Whatever the design of your support superstructure might be – DCL-Pro connectors make the system much easier to install and ensure that it is securely held in place.
Precise alignment of the profile sections thanks to sliding suspensions with retaining bolts
Two variants are available to attach the system to a superstructure:
C-rail for fine adjustment in two axes
Threaded pins for vertical alignment
Rails designed to match specific needs
Stainless steel-plated copper conductors
For contact surfaces resistant to abrasion and protected from oxidation in arduous ambient conditions or when seldom used. Available for the control conductors (poles 5, 6 and 7) and for all 10mm² conductors.
Silver-graphite contacts
The use of silver-graphite contacts in connection with stainless steel-plated copper conductors is recommended for improved contact reliability for control signal transfer, particularly with low voltages (24 – 28 V, IN = 1A).
Enclosure profile and conductors
Enclosure material
PVC
Standard length [mm]
4,000
Number of conductors/poles
 7
Max. suspension distance [mm]
2,000
Max. voltage [VAC] 1)
24 to 690
Size
10   15   25    38    56   70
Max. permissible current  at 100% CDF  [A] 2)
65, 80, 100, 130, 175, 200
Ambient temperature to DIN  [°C]
-30 to +70
Type of enclosure
IP 23 / IP 24 3)
Fire protection
to UL94/VO spec.
Min. curve radius [mm]
800
1) DC on request
2) to 35 °C
3) with profile seal
Current collector trolley
Number of poles: power
4
Max. number of poles: control signals
3
Max. rated current at 80 % CDF [A]

40 (Bz) 4) / 20 (Gr) 5)

40 (Bz)  / 20 (SiGr) 6)

Max. connection cross-section

Power [mm2]
Control cable [mm2]

 

6
2.5

Standard cable length [mm]
2,000
Max. fusing  [A]
100
Max. travel speed [m/min]
200
4) with bronze sliding contact 
5) with graphite sliding contact for arduous operating conditions 
6) with bronze (power conductors) and silver-graphite contact (control-signal conductors)
for high currents and control signal transfer free of interference