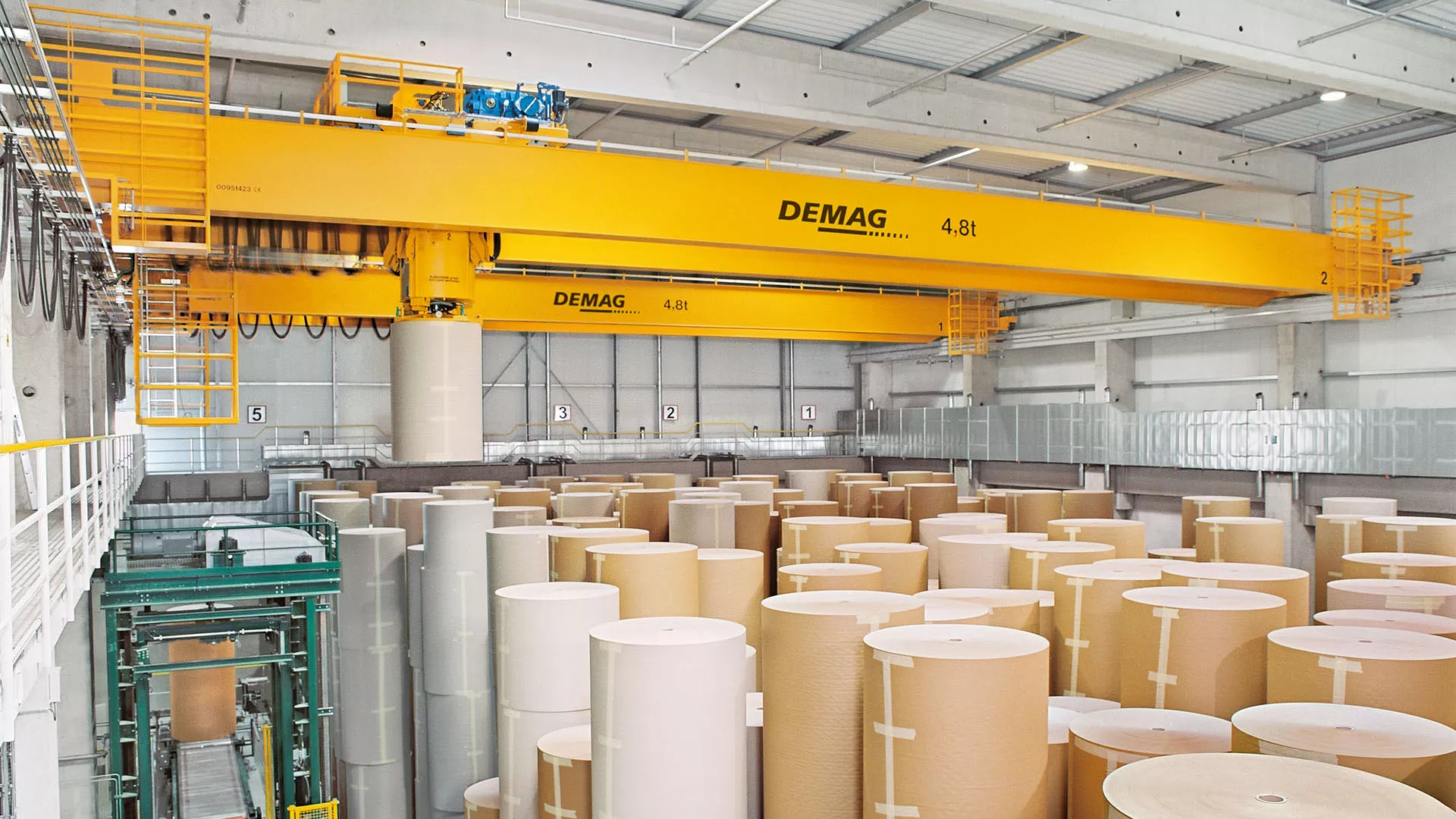 Playing a key role in paper production
The paper industry is one of the key sectors for our process cranes technology. From precise positioning of machine rollers to fully automated stores for paper rolls, we offer solutions tailored to meet individual needs. Thanks to the many installations that we have already realised for companies in the paper production and processing sector all over the world, we have extensive industry-specific expertise.
Our cranes play a leading role wherever parts of an installation have to be safely transported, reels have to be picked up in cycles to match the paper machine operating cycle and rolls of paper have to be stored and retrieved.
Fields of application
Paper production
Paper storage
Service
Paper production
With our comprehensive range of crane and hoist products, we supply solutions for all applications in the paper production process:
safe handling full reels and the reliable return of empty reels at the dry end of the paper machine
maintenance work, such as changing screens and felts, at the wet end of the paper machine
replacement of rollers and other components of the paper machine
transporting machine parts – e.g. in stock preparation
service and maintenance work in all working areas of a paper factory.
Paper storage
The efficient channelling of a paper machine's production output requires reliable and versatile materials handling. All over the world, we have a large number of reference storage systems equipped with crane installations for the vertical storage of paper rolls, which customers operate with Demag crane solutions.
In the fully automated paper roll stores, our cranes pick the rolls up, gently store them vertically in stacks and, if required, stage the rolls of paper just-in-time for the next step in the operation.
The cranes are controlled by the Demag warehouse management system, which communicates direct with the customer's host computer, the paper roll transport installation and the operating terminals in the various parts of the paper factory. Installation-specific storage strategies – designed to meet the needs of intermediate roll stores or shipping stores – can be configured by means of visualisation screens.
Service
The high level of integration between crane systems and production processes requires maximum availability to be provided by the material handling equipment. In addition to the use of high-quality components, we ensure this level of service via our large network of service technicians – our highly specialised pool of service technicians for process crane applications, who are strategically located in our individual regional subsidiaries all over the world.
Our customised service concepts range from regular inspections to 24-hour on-call standby.
Interested? Please, contact us. We respond fast and are ready to help you.