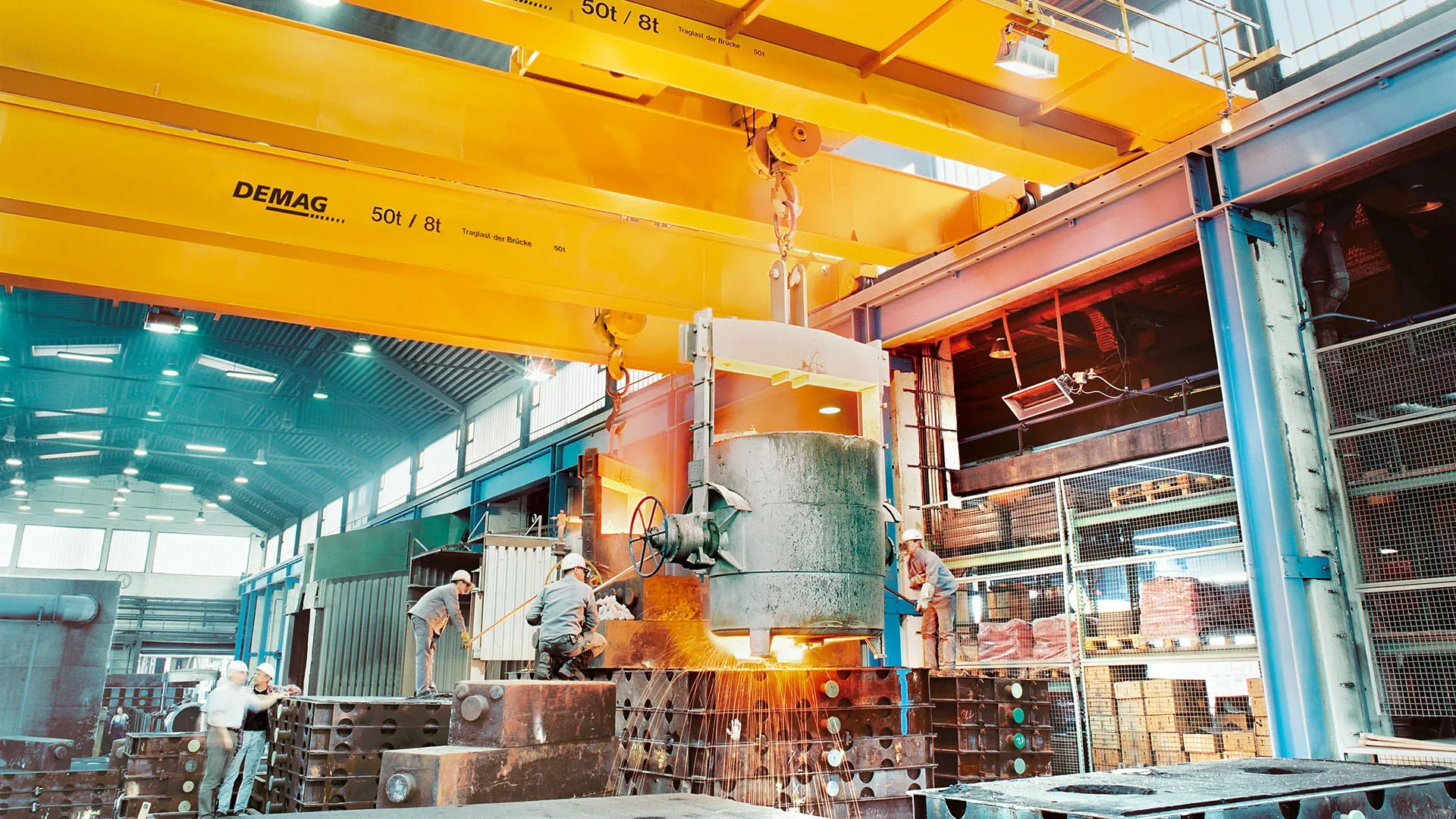 Automated solution for handling steel coils
Iron, steel, aluminum & further basic metals
Many companies in the steel, ferrous and non-ferrous industry and their foundries rely on Demag process cranes all over the world. Why? Because we supply the right solution for every requirement – along the entire value chain.

Demag crane installations are used under arduous operating conditions – which means that the cranes have to be designed to withstand high ambient temperatures, extreme dust levels and strong vibrations.

In addition, our subsidiaries all over the world also have special local expertise. This combination enables us to create solutions tailored to meet our customers' specific needs.
Fields of application
Steelworks and foundries
Rolling mills
Storage and staging
Steelworks and foundries
We have the right crane solutions for a variety of applications in foundries: casting cranes with up to four crane girders for the safe and efficient handling of ladles. Double-girder overhead travelling cranes in-house transport of the components required for casting (e.g. mould boxes) and for handling the castings to be processed.
Rolling mills
In addition, we supply technologies tailored to meet individual needs for all lifting and transport requirements in hot and cold rolling mills. These applications include the in-house transport of slabs and ingots as well as the handling of mill rolls for storage and maintenance. And with our travel units, we provide complete drive solutions for rail-mounted transport applications.
Storage and staging
Demag cranes supply installations of semi-automatic and fully automated design for the dedicated storage and staging of metal products (e.g. coils made of aluminium or other metals, bar stock profile sections, etc.). Depending on the requirements, we also supply our specially developed warehouse management system.
Interested? Please, contact us. We respond fast and are ready to help you.